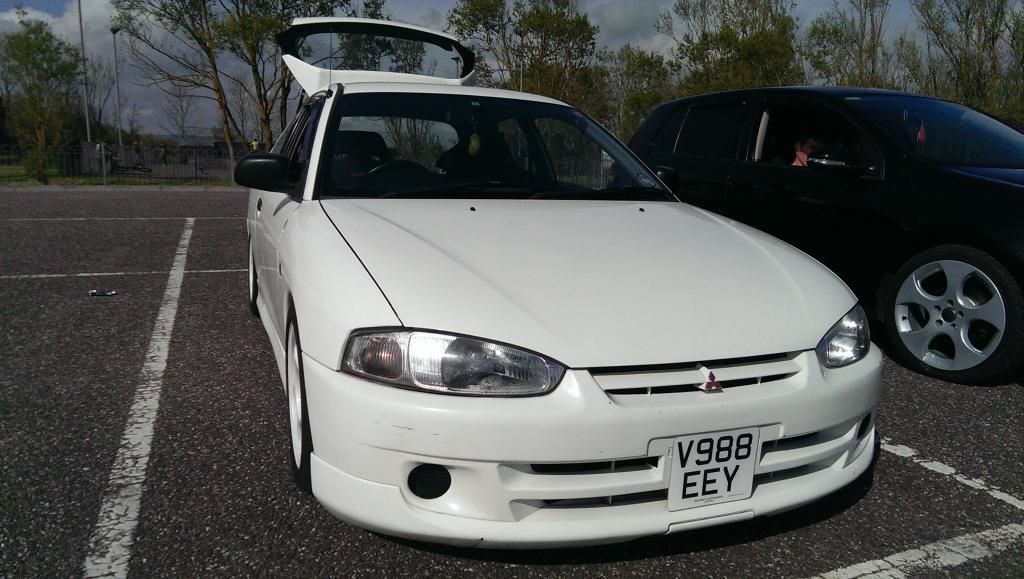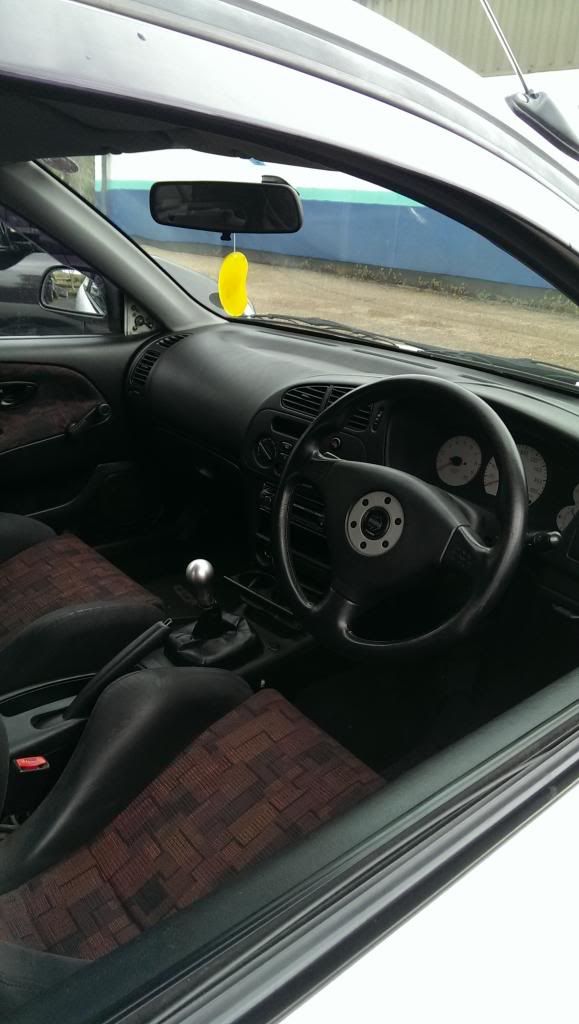 FOR SALE here is my Mitsubishi Colt Cyborg RS 1.6 Mivec Gen 2 import.
This is a super rare 1 out of 2 cars in the UK as it's a 2000 facelift model.
It has the usual RS spec Inc quick rack, extra bracing, extra welding on the chassis, lightweight, thinner glass and short ratio gearbox.
It comes with 5 months tax and 9 months MOT. The car is still in kph and reads 118,500 which is roughly 73,635 MILES so still good.
BC coilovers, under 1 year old so still have warranty. over 700 pounds new,
full adjustable camber with up to 30 way adjustable settings.
Fujitsubo full stainless system, I've heard they are the best systems for the 1.6 mivecs and roars in mivec.
I have upgraded to the rs twin pots which I returned before putting on, front and rear, fitted with new mini Cooper discs running 4x100 and new yellow stuff pads on front which have done just under 250 miles so just worn in basically. New pads on rear fitted about 5 months ago. Including braided brake hoses all round.These brakes really are such an improvement over the single pot brakes which were on it. So far i have not had brake fade when breaking heavily. I spent alot of money getting the bits but totally worth it.
Beatrush induction kit with beatrush air box fitted to a hks mushroom filter (genuine)
Aftermarket ht leads i think they are magnacore.
New battery.
Replaced front lower arms.
Replaced cat.
Replaced the sump as it was leaking.
I got the car in a state with no seat belts in the rear so I have purchased them just haven't fitted so come with the car.
Rear strut brace.
Ralliart gear knob.
Fitted on the car are 15" Enkei alloy wheels, could do with repainting but they are all straight which is nice to know.
Wrapped around them are toyo proxies on the rear with plenty of thread left on and good year efficients on the front only 4 months old, they no longer make the good year eagle f1 so these are the new equivalent and apparently better. I haven't had any understeer with these, they are great tires with lots of grip wet or dry.
Rays alloy wheel nuts which are super light with a locking wheel nut.
Team heko wind deflectors
Short shifter
I have serviced the engine twice since I've owned it, plugs, oil, filters with receipts. The car came with no history so all the history I have is everything I've done.
Comes with an evo momo airbag steering wheel.
Evo 4 recaros front and rear, fronts are in okay condition but rear are superb. Also comes with original rs front and rear seats.
The car also will comes with another full stainless steel longlife exhaust which helped me get it through the emisions, I later found out the cat was knackered so replaced it but welcome to the full system if wanted, it's only taking up space. Plus a spare pair of sideskirts which I was planning to fit as there is a mark in the passenger one. All they need is to be resprayed.
I've got 3 keys with car.
The bodywork is average for its age with a couple of parking dinks on the doors and some scuffs on the bumpers. Not forgetting the sideskirt that I've mentioned but have replacements. I was planning a respray as it's the only thing that lets the car down but I think the performance overpowers the loss of attention it's had. I've done what I can with it keeping it clean and polishing it for car meets.
The car pulls well in every gear with the usual slight crunch in thord when cold. Thanks to the short ratio gearbox I can cruise in 5th at 30mph without any judder and picks up with ease. With the coilovers the car handles so well, with brilliant cornering speeds, not many cars can keep up round corners. It really is a fun car to drive and for a young enthusiast like myself it has brought alot of smiles to my face and a few frowns to other drivers faces. It is on par, if not better, than the ek9 type r's. I have raced one and pulled away from it before but it's not always down to the car. The acceleration on this car is brilliant and gets to 112 mph, still limited, quite quickly. Genuine reason for sale is I'm moving onto another project. I am truly sad to let this car go, owning a car which is 1/2 in the UK is something special.
I'm asking for £2500
for the car and the bits including as I know for a fact there is not another facelift rs out there with this spec and parts I'm giving away with it. Please no test pilots or dreamers. My mobile number is 07966796132, please over text me if you are seriously interested. I can send more pictures if required.