Ok so you've got a CJ amd your growing weary of the lack of power the 1.3 or 1.6 has to offer you.
here's a little guide as to what engine choices are availiable to you and roughly what will be required to make it work.
The carisma or fto 1.8 SOHC engine -
This is probably the easyest swap availiable to do to your colt, all that is required for this swap is the engine. The engine will run on the 1.6 loom and ecu and gives a reasonable increase in power and torque. When looking into this convertion you are looking for a 4G93
non GDI engine
because these engines are not very good
This engine can be used with any of the 4G series gearboxes.
The Mivec engine -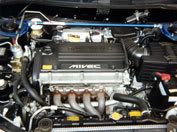 This is another relatively simple engine swap however it will require a bit more to work than the carisma or fto swap. For this swap you will require a cyborg engine (with all ancilaries), wiring loom and ecu. This is the minimum requirements for mivec engine swap, anothjer option is to get an entire cyborg front cut this will give you everything from the cyborg that you will require plus extras like the cyborg gearbox and brakes. This engine can be used with any of the 4G series gearboxes.
The V6 Mivec engine -
This swap ideally requires you to have a donor FTO or a FTO half cut this way you will have everything availiable to do the swap. Minimum requirements for this swap are engine, wiring loom, ecu, gearbox driveshatfs and hubs (front and rear) as you can see most of the car is required so a donor car is definately the best way forward, this also allows you to take the FTO suspension and brakes meaning your colt will end up being full FTO spec. This engine requires the FTO gearbox and cannot be used with any 4G series box.
The EVO engine -
This is the daddy of engine swaps and the one we all want. This is another swap that ideally requires you to have a donor EVO that way you can convert your colt to complete evo spec changing absolutely everything. (the evo 4 is the best choice for a complete swap over due to the width of the evo 4 being best suited to the colt, evo 5's and 6's are wider and would require flared arches to accept the wider track) The minumum requirements for this swap are the engine, wiring loom and ecu. You can use a FWD converted evo gearbox or any of the 4G series gearboxes with this engine. If a FWD converted evo box is used, evo driveshatfs and hubs must be fitted also.
The Hybrid engine -
Hybrid engines are engines which have been made out of different components from various engines. The picture shows a twin cam converted 4G15 engine, this twin cam head can also be fitted to the 4G13 engine. There is a very rare model of galant that has a 4G93 twin cam engine, if one of these engines or heads can be found you can twin cam convert your 1.6 4G92 or 1.8 4G93 engine. RPW also do twin cam converting kits that can be found here
http://www.rpw.com.au
Another popular hybrid engine is the 1.8 mivec, here is a list of the components required to create such an engine:
Block- A 4G93 block either from a DOHC/SOHC or a GSR turbo, GSR block has oil sqiuters for pistons N/A blocks do not.
Crankshaft - 4G93
Rods - 4G93
Pistons - 4G92 Mivec or custom made ones to give your desired compression ratio.
Headgasket - A 2mm copper/custom gasket is needed to bring CR to 11.0:1 in a 4g93 with 4g92 mivec pistons. (different pistons will require a different gasket to be used)
Timing Belt - 4G94 159 tooth
Gearbox - Any 4G series works but a cyborg box with lsd is recommended
ECU - standard mivec with piggyback eg. greddy e manage or fully standalone eg. haltech
Injectors - 390cc from Lancer GSR
A 1.8 Mivec Turbo would require you to use the full GSR bottom end instead of mivec pistons, a mivec turbo would definately need standalone engine management with mivec control.